Home › Wheels and Tyres › Wheel Spacers & Tools › Hubcentric 25mm Wheel Spacer
Hubcentric 25mm Wheel Spacer
---
Be the first to write a review
Specially designed to widen the front or rear track on the S1 Elise, S1 Exige or 340R by 25mm.
The strongest wheel spacers available for the MK1 Elise / Exige / 340R using a 95.25mm PCD.

A great deal of engineering thought has been put into these adaptors; they have a precisely machined inner ring that fits snugly onto the main "nose" of the drive flange and a similarly machined protrusion creating a perfect fit to the inner Lotus wheel hub, this is very important for strength and safety.

These utilise the proper fitment of 8 x High Grade 12.9 steel studs permanently fixed to 2 x 25mm thick aircraft spec alloy spacer rings.

They are easy to fit and are supplied with 8 x 10.9 grade steel nyloc nuts, enabling fixing to the Original Equipment steel hub studs.

A further 8 x M12 (1.5mm pitch) zinc plated 19mm hex head wheel nuts are supplied so the wheels can still be easily fitted and removed from the vehicle.
Please choose the type of wheel nut required , the choices are 60 degree taper seat or spherical seat.
Normally Elise MK1 wheels use Spherical and MK1 Exige uses a 60 degree Taper seat.

SUPPLIED IN PAIRS (2 Spacers)
This fits the following models:
S1 K SERIES ELISE
S1 EXIGE & MOTORSPORT
LOTUS 340R
---
Related Products
---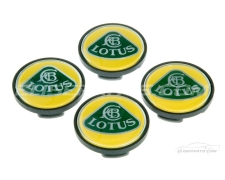 ---