Home › Gearbox & Drivetrain › 6 Speed Sequential Gearbox
6 Speed Sequential Gearbox
---
Be the first to write a review
Specifications of the EP Tuning 6 Speed Sequential:
Fully dogged 6 & 7 speed gear sets (PLUS reverse)
Internal oil pump & spray-bar (with external fittings for oil cooler / filter)
Bell housing designed to fit K20 / 2ZZ with anything from standard flywheel-clutch to multi-plate race clutches.
3 bearing shafts for maximum strength.
14mm wide gears on 86mm spacing.
Over-sized crown-wheel for increased strength.
+20mm drive-line - crankshaft spacing allows 1 piece RH driveshaft, no intermediate shaft required.
Will accept any Honda MT6 pattern differential (Wavetrac are the tested option).
Designed from the outset to work seamlessly with paddle-shifters (Geartronics).
Change lever can be driven from both front & rear.
LM169 high strength aluminium cast case, fully heat treated and hard anodised.
Billet aluminium centre plate and bellhousing adaptor plate.
S156 aerospace steel used throughout.
Gears shot peened and ground for maximum strength; Fully heat treated and hardened same as Hewland / X-Trac and Sadev
Optimised 6 dog engagement for quickest shift / highest strength.
Optimised gear ratios to make best use of engine torque.
Full length sequential barrel to minimise moving parts.
Full gear shift travel neutral for ease of use.
Zero over travel gear shift system.
Low friction barrel position detent.
Bespoke concentric clutch slave with internal pipework for ease of plumbing.
Internal oil pump with filter, external fittings for oil cooler and return spray-bar.
Will accept standard rotary potentiometer and Honda speed sensor.
Gearbox weight 48KG complete.
Torque rating 500Nm.
6 Speed Sequential Gearbox videos.

Gear Ratios
1st - 2.923
2nd - 2.059
3rd - 1.600
4th - 1.304
5th - 1.120
6th - 1.000
7th - 0.926
Final Drive Options
3.444
3.705
4.063
https://vimeo.com/user556637/videos
This fits the following models:
S2 2ZZ EXIGE
S2 2ZZ ELISE 2004-2011
LOTUS 2-ELEVEN
---
Related Products
---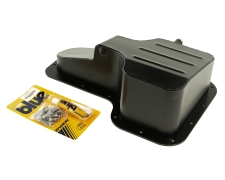 ---