Home › Exterior & Bodywork › Aerodynamics › Large Ducted Undertray
Large Ducted Undertray
---
Be the first to write a review
Eliseparts own unique design.
Although the same basic shape as the original ours has three major benefits:

1/. It has 30% larger NACA Ducts allowing more cooling air into the engine bay.

2/. The NACA Duct directly under the sump area is removable alleviating the need to remove the full undertray for oil changes.
This alone can save 30 minutes for a simple oil change.

3/. The Centre Oval Cut-Out for the exhaust down pipe is 10mm wider which is important when fitting upgraded exhausts as this normally requires re-cutting of the original undertray.

A complete direct replacement undertray for those that are either badly bent over the years or just corroded.

Accurately laser cut, CNC folded and then deep anodised for longevity.

They come complete with new vacuum formed 30% larger NACA ducts.
Fits all S1 and S2 K Series Lotus variants.
This fits the following models:
S1 K SERIES ELISE
S2 K SERIES ELISE
S1 EXIGE & MOTORSPORT
LOTUS 340R
---
Related Products
---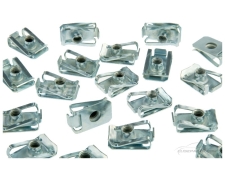 ---