Home › Brake System & Ancillaries › Brake Pads › Cera Tec Anti-Squeal Gel for Brake Pads
Cera Tec Anti-Squeal Gel for Brake Pads
---
Be the first to write a review
New Mintex Cera Tec brake lubricant is to be used following cleaning with brake cleaner.
Totally metal free, the lubricant is used to coat the insides of calipers, piston heads and brake pad backings; this reduces heat build up when in use and prevents brake pad squeal.
This grease will help reduce brake squeal and it will also make the caliper seals last longer as there are no acids in this material.
A high tech 'Anti Cling' formula means that dirt, dust and grime does not stick to the lubricant, meaning it lasts longer.

Cera Tec, the metal-free anti-squeal lubricant for braking systems is highly resistant (up to 1000°C).
The advantages of Cera Tec are:
- Non-conductive contents.
- No solid constituents.
- Anti-lock approved.
- Facilitates brake assembly.
- Reduces brake squealing.
- Protects against scratching and corrosion.
- Free of copper and acids.
Click here for our Brake Cleaner
This fits the following models:
S1 K SERIES ELISE
S2 K SERIES ELISE
S1 EXIGE & MOTORSPORT
S2 2ZZ EXIGE
LOTUS 340R
S2 2ZZ ELISE 2004-2011
VX220 / SPEEDSTER
LOTUS EUROPA
LOTUS 2-ELEVEN
LOTUS EVORA
S3 1.6 ELISE 2011-2014
V6 EXIGE / ROADSTER & CUP
S2 1ZZ ELISE 2006-2010
S3 ELISE 2011-2020
LOTUS 3-ELEVEN
---
Related Products
---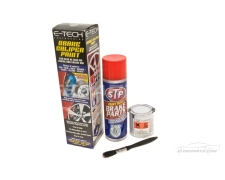 ---